Tomorrow's Data Scientists
At the UO, we provide you with core knowledge in data science techniques and help you apply them to things you are interested in. So not only are you learning about data, but you're learning about fields like biology, business and marketing analytics, linguistics, or geography.
We have about 150 students in the data science major. Here, you can get to know a few of them.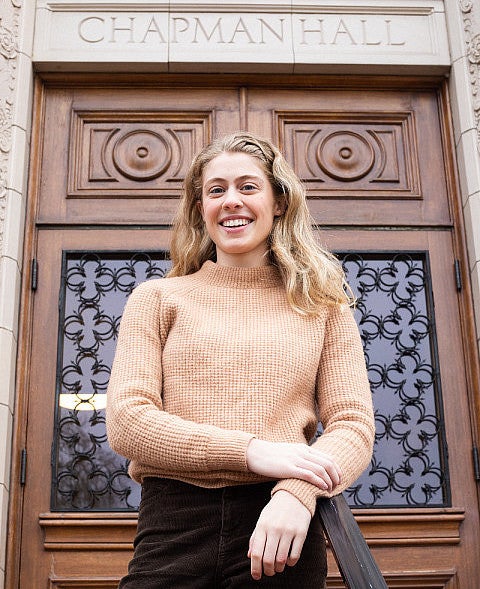 Julia De Geest
Hometown: Portland, OR
Data Science Domain Area: Biology
Career Ambition: Cybersecurity or data analytics
When UO began offering data science as a major De Geest's sophomore year, it was a cumulation of her interests: math, computer science, and a domain emphasis of her student's choice. She chose biology.
De Geest also worked for two years in UO's Information Security Office, where student cybersecurity analysts monitor campus networks and cyber health. They investigate phishing campaigns, track down malware, and develop code to improve efficiency.
As a senior, she used her Clark Honors College thesis to make the learning curve feel less daunting. Using her studies in data visualization within the data science major, she created a map that tracks system health.
"When I was first starting out, things seemed a bit overwhelming," she recalls. Her map will allow analysts to spot problems at a glance – speeding up the process and making it "more approachable for people who have never done work in cybersecurity."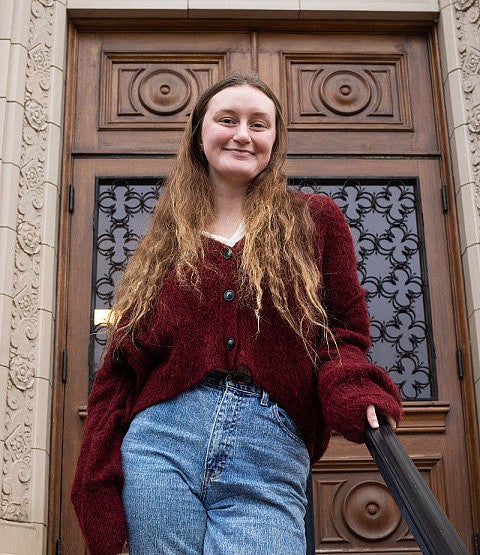 Zoe Tomlinson
Hometown: Portland, OR
Data Science Domain Area: Exploring
Career Ambition: Interdisciplinary work involving politics
For Tomlinson, the data science major's emphasis domains are a field brimming with opportunities.
"I can go anywhere I want with the data science major," she says.
Tomlinson believes the skills she learns in her major can be applied to countless fields, including politics.
As a high school student taking calculus, she combined mathematics and programming to calculate the wealth disparity in underdeveloped countries and examined policies to decrease income gaps.
In the summer of 2020, she wanted to get involved in politics and voting efforts. A mentor connected her to the National Vote at Home Institute. She became a research intern, helping to analyze large amounts of data as she worked to identify ableist code in state constitutions.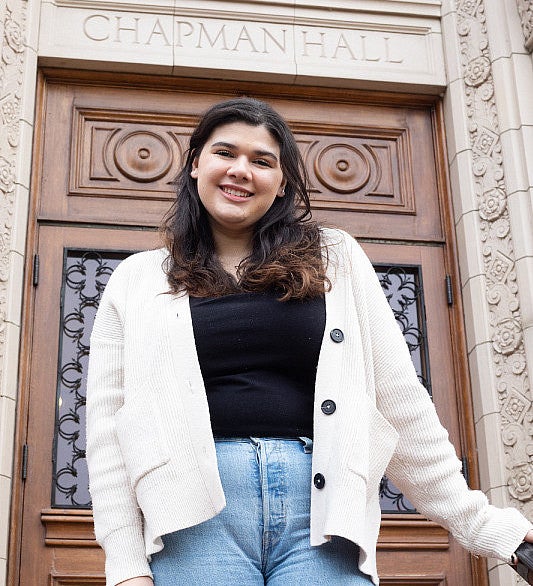 Maya Rios
Hometown: Eugene, Oregon
Data Science Domain Area: Marketing Analytics
Career Ambition: Cartographic work
During the lunch rush, Maya Rios was working in a campus kitchen, waiting for the sandwich oven to cool down so she could clean it. She remembers thinking: "How can a hot surface cool faster?"
Rios asked her coworkers if anyone was a science major, and one told her that he was majoring in data science. "It was the moment that sparked my imagination and curiosity," Rios recalled.
Hearing the buzz around data science as an emerging field, she decided to take an introductory course.
At the time, Rios was an English major, but she wanted something more. She read up on data science and declared it as her major, with a focus on marketing analytics. "I just wanted to do something completely different, something that was emerging (with) a lot of real-world applications so I can be super employable," she said.
Michel Kasday
Hometown: Eugene, OR
Data Science Domain Area: Undecided
Career Ambition: Situational and risk analysis modeling
"When I started college in the 1990s, I knew that I wanted to pursue a degree in computer science. But I wanted to do more than networking or software development. Eventually, I left school and served for 20 years in the Air Force. Although I was trained to be a flight engineer and jet engine mechanic, my computer experience and skills predicting in-flight aircraft performance were repurposed to develop simple analytical tools to help leaders make data-driven decisions.
After retiring from the Air Force, I chose to return to college and attend the UO. UO was one of the first universities in the northwest to offer a new data science major. At last, I had found the degree that applied computer science in a way that met the needs I'd experienced first-hand in the military. 
In the future, I hope to be involved with an organization that values the skills I develop here, such as the ability to provide situational analysis and awareness to make positive change socially, environmentally, or even politically."
Brian Kim
Hometown: Beaverton, OR
Data Science Domain Area: Economics
Career Ambition: Economics and Mathematics
"I started studying at UO in 2017, and data science felt in line with what I wanted to do in the future. Getting my degree felt flexible. I was able to choose a domain I liked from the many available choices and the courses are offered fairly frequently."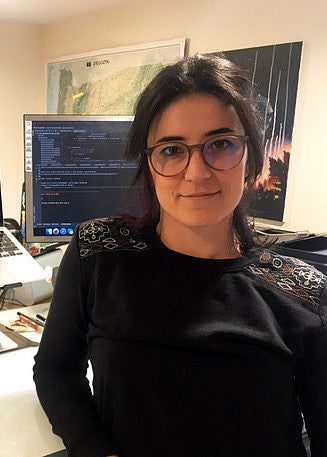 Lindsey Uribe
Hometown: Grants Pass, Oregon
Data Science Domain Area: Biology
Career Ambition: Genetic Research
"My work in the University of Oregon's Data Science program excites me because I know I'll come out of this program with the tools and the skills I need to be a valuable resource on almost any team, anywhere in the world.
I chose Data Science at the UO because it was the first program of its kind anywhere in the Pacific Northwest. There's nothing like it elsewhere in Oregon."
Rudira Madala
Hometown: Portland, Oregon
Data Science Domain Area: Biology
Career Ambition: Biological Science/Business Data Scientist
"I chose Data Science at the University of Oregon because organizations and scientists use data to inform big decisions about research, consumer behavior, and internal operations. The UO's program gives me the flexibility to explore my domain focus and pursue a second major all while completing my data science degree."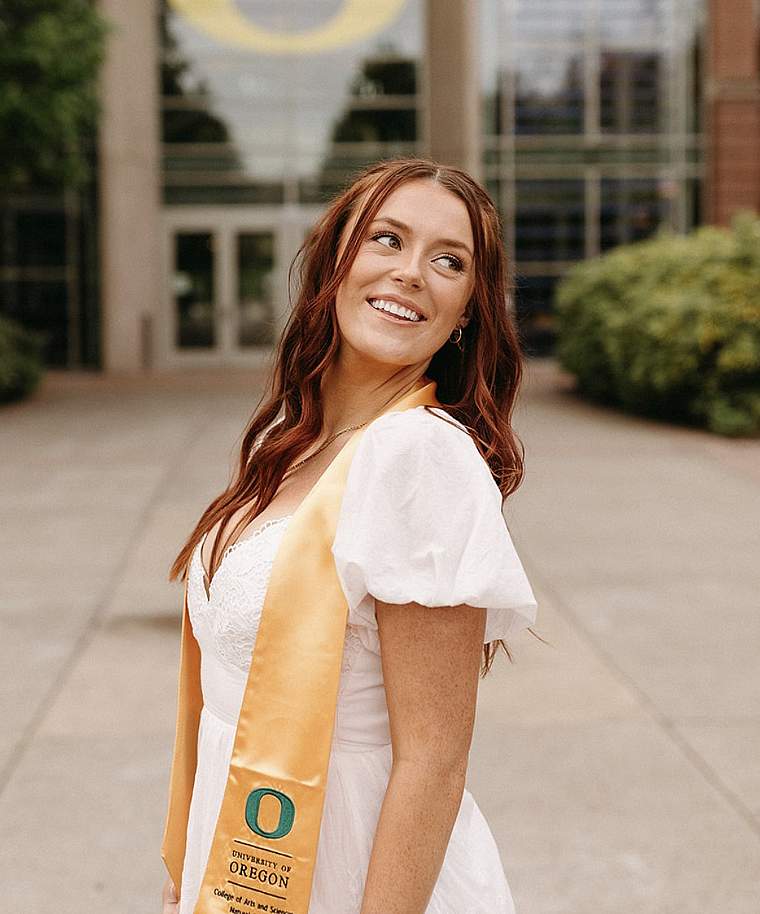 Darby Olson
Hometown: Portland, OR
Data Science Domain Area: Marketing Analytics
Career Ambition: Minors in Business Administration, Mathematics, and Entrepreneurship
"I liked how all the professors did a great job with navigating brand-new classes and always asking questions from the 'new' students to improve it for the students that followed. The data science major looked interesting to me because of the mix of computer science, business, and math aspects, which were three of my strengths in school. Before being told that the data science program was coming to Oregon, I was taking a lot of time trying to decide if I wanted to continue with computer science or with business for my major path and which major I would enjoy more in the long run. Forbes also named data science as the 'Sexiest Job of the 21st Century,' which is obviously going to grab most peoples' attention."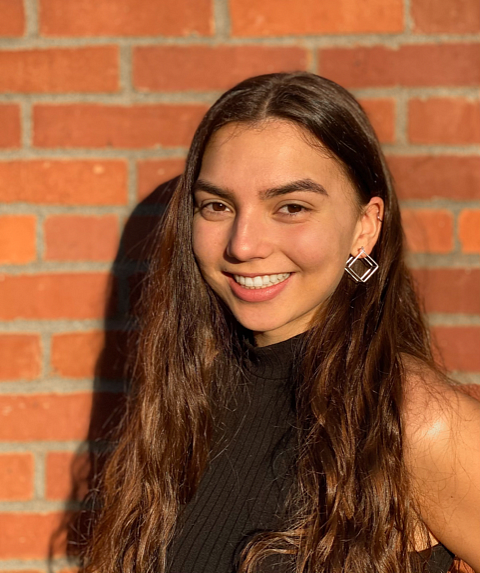 Sophia Somerscales
Hometown: Wilsonville, Oregon
Data Science Domain Area: Geography
Career Ambition: Work with satellite image data to track and predict changes in the environment
"I chose Data Science at the University of Oregon because it allows me to combine my technical skills in computing and mathematics with my passion for solving environmental issues and driving social equity."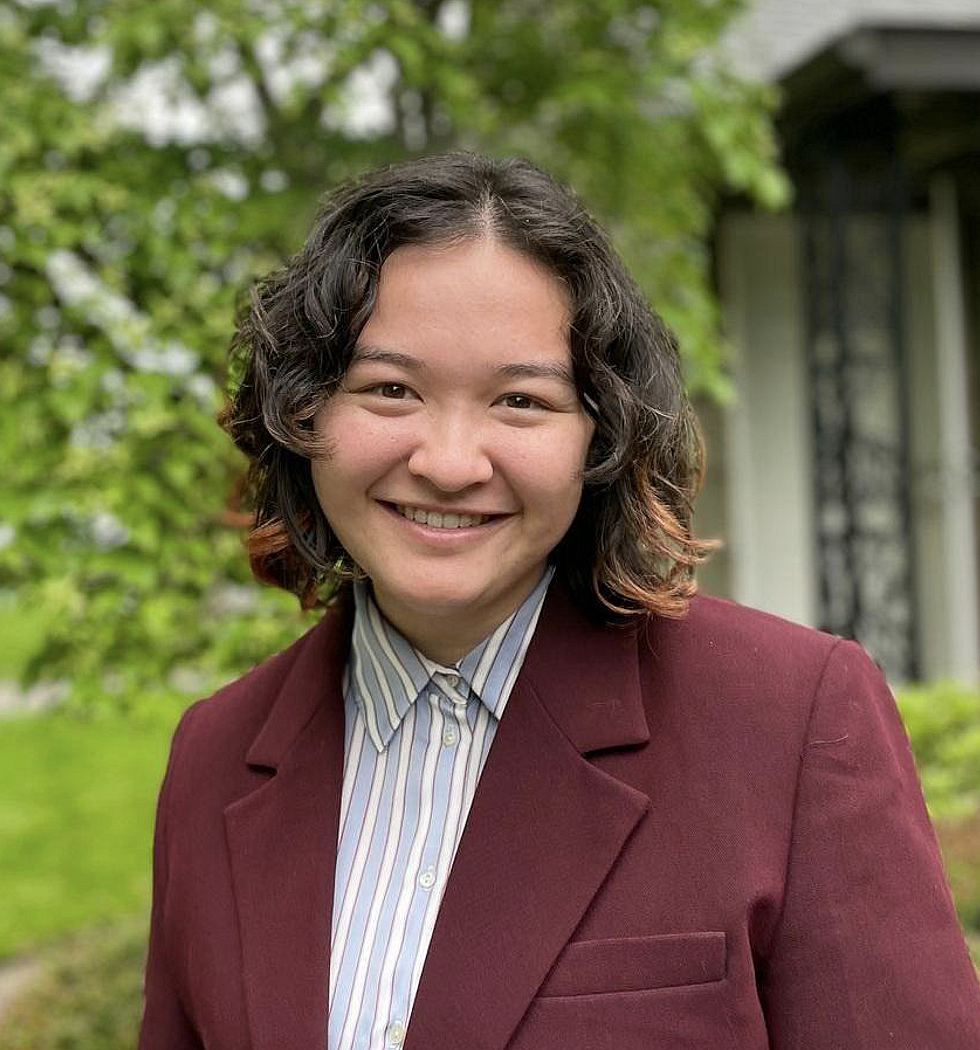 Haley Rice
Hometown: Beaverton, OR
Data Science Domain Area: Biology
Career Ambition: Double Major Data Science and Biology
"I chose a biology domain for the degree. It has helped connect my two majors and made double majoring and still graduating in four years feasible. I hope to apply my degree to environmental or conservation management. Data science is a really prevalent subject that relates to any career field because data is everywhere! Regardless of someone's interest in computers, I highly recommend learning at least a little bit about how data is collected and used in society and how it may be relevant to you."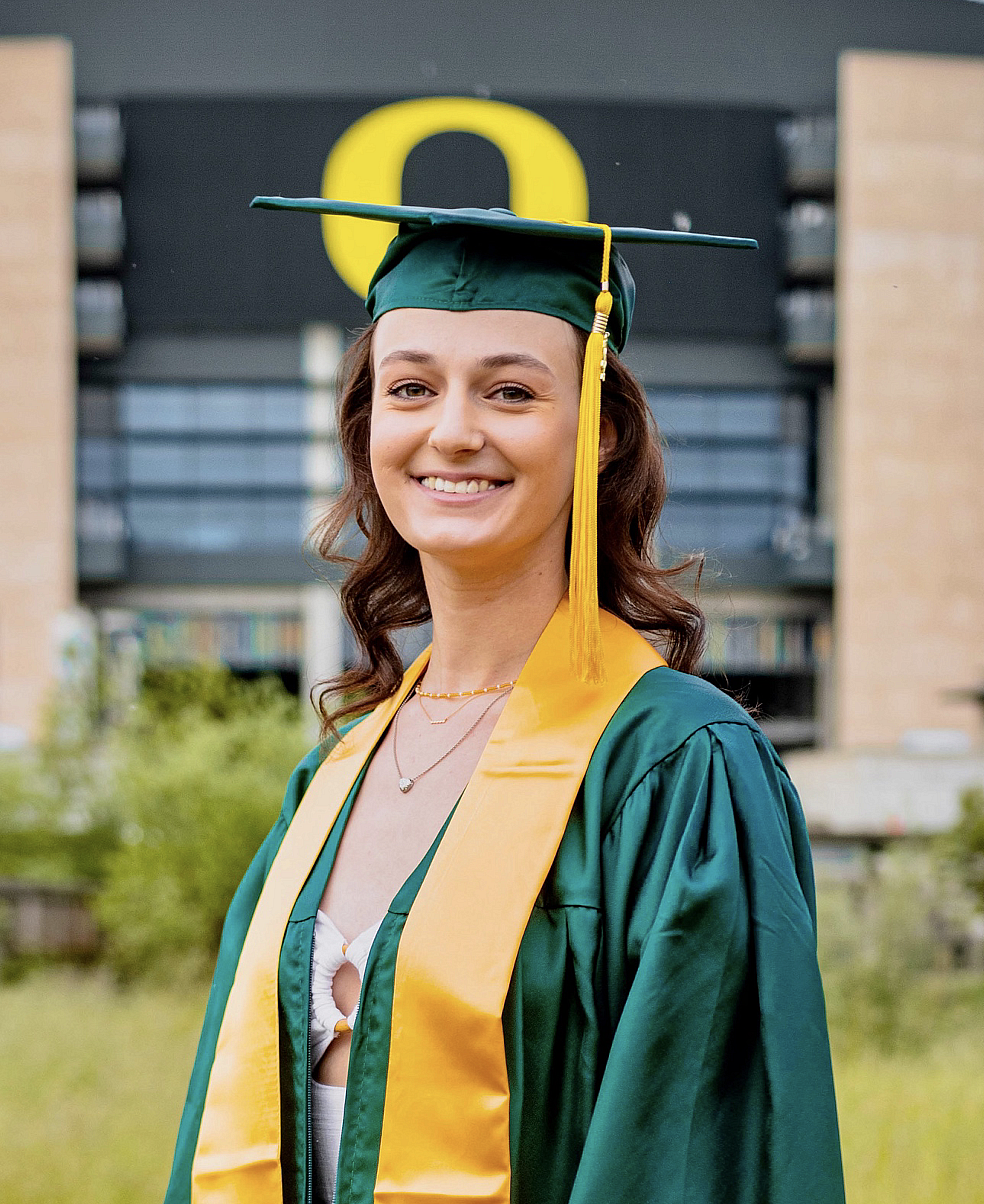 Liza Richards
Hometown: Walnut Creek, CA
Data Science Domain Area: Biology
Career Ambition: Double Major in Computer and Information Science and Data Science, Minor in Biology
"I was trying to figure out how I could best combine my major and my minor because even though I had switched them, my main interest is with biological applications of computer science. I knew the best way to do that was through data science because I wanted to do bioinformatics or biotechnology.
One of my favorite things about getting my data science degree was that I felt like I was doing something I really loved. I finally had found a way to combine my two biggest interests, and it has become something I am super passionate about and something that I am excited to do in the coming years."
---
Become a Data Science Major