Last year, Liza Richards was a member of the first cohort of University of Oregon students to graduate with a degree in data science. Not only that, but she was also the first person to graduate with a double major in data science and computer science.  
"It was a big honor," Richards, '22, said. "Being a woman and doing it too—hopefully, it inspires other people."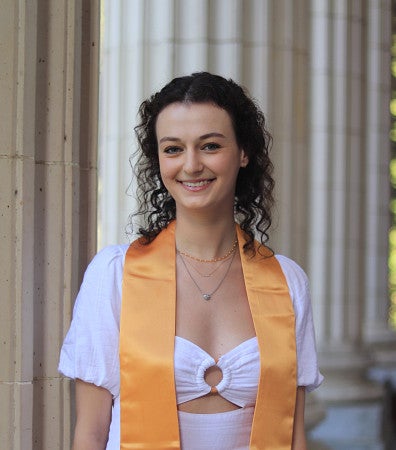 As a freshman originally from Walnut Creek, CA, Richards planned to major in marine biology. She always had an interest in science, and the Oregon Institute of Marine Biology drew her to Eugene over other schools. The beautiful campus and school community also caught her eye. 
Her minor at the time, computer science, soon proved to her to be a major with more opportunities after college. "I wanted just as many options as possible," Richards said of jobs after college. "That way, I could just be more flexible with my job search." 
 Then came her junior year, and Richards realized she wanted to be able to see the firsthand impact her future job would have. After talking to a computer science advisor, she decided to try out double majoring in computer science and data science, a new program at UO. 
"It is a little scary diving into a major that isn't as established because, you know, you don't really know what you're getting yourself into," said Richards. "You can't ask anybody who's taken those classes before."  
Despite the unknown, Richards knew a double major encompassed what she wanted to do with her career. "I was willing to take that risk," she said. Richards planned to minor in biology but "conveniently enough, biology was one of the options for a domain in data science, so it lined up pretty well," she said. 
That risk paid off, she said. The community she found within computer science, data science, and the College of Arts and Science was a large part of her success. 
"I had very strong groups of people that I really enjoyed working with," she said of the students in her cohort. "I honestly attribute a lot of my success to them, because they were so motivating and so inspiring." 
During her time at UO, Richards worked on a project for a group managing local community fridges. Her group created a program that would connect the various fridges with the main group and send out monthly messages to check the fridge's status and functionality. Because of this program, if people were looking for a community fridge online, they wouldn't see fridges that were no longer active. 
She was also inspired by the faculty she worked with in the data science program. Joe Sventek, the director of the program and a professor in the Department of Computer Science, was a hard-working and inspirational part of her experience. 
"Honestly, without his guidance, I don't know how I would have made it," Richards said. Sventek helped keep her organized and on track. "He was a huge help." 
Richards started an internship with Thermo Fisher Scientific, a biotech company with headquarters in Eugene, two days after graduating from UO. After four months at her internship, she became a full-time financial analyst at Thermo Fisher. 
She uses both computer and data science daily in her job. "A big part of computer science and data science is the fact that it's not always going to work out the first time. And it's just a trial-and-error process, which I think is really applicable to life."  
Her problem-solving skills are supplemented by a relentless attitude she learned from her time at UO. "I think it has made me more resilient in a sense, and also given me the ability to approach a problem by looking at multiple different solutions," she said. "There's always more than one way to do something." 
—by Alyson Johnston, College of Arts and Sciences